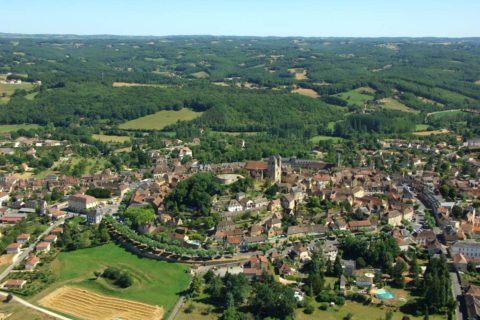 Gourdon and the Bouriane region
Come and fall under the charm of the Bouriane region, a land of red and ochre soils, verdant forests and valleys, and prehistoric men, located between the Quercy and Périgord provinces. Follow the small winding roads that reveal beautiful medieval villages perched on cliffs, typical chestnut groves (chestnut tree being the region's emblem), green meadows and many vestiges of ancient times such as prehistoric caves, dolmen and small bastide towns.
A stay in the Bouriane region is also an opportunity to follow in the footsteps of St James the Great, for the legendary pilgrimage route of Santiago de Compostela goes through the Bouriane region and Gourdon, its capital! Take the chance to discover this remarkable medieval village where traces of the Middle Ages are still easily noticeable. Gourdon has such a wealthy heritage that it has been ranked among "the most beautiful detours in France".
Enjoy a spectacular 360 ° view of the Bouriane and Périgord rolling hills from the esplanade where the old castle and its ramparts used to sit. Stroll through the narrow streets and feel the soul of the place. Take a look at the astounding half-timbered houses, the Cavaignac House (XVIII), the Saint-Pierre Church (classified as historical monument), the Hôtel de Ville (former consular house from the 12th century) and the Seneschal House. And if by chance you go to Gourdon early in August, do not miss Les Médiévales de Gourdon, a must-see event in the region for over 20 years, which brings the city back to the time of knights and troubadours.
Gourdon has more in store for you! Leaving the maze of cobbled streets, discover its theme gardens: Zig-Zag Gardens, Sénéchal Gardens or Jardin des Contes de Fées (Fairytale Gardens) welcome you for a delightful saunter.
Finally, how not to mention the gastronomic wealth of Gourdon and its region! There is no better way to appreciate it than strolling about the aisles of the local markets. In Gourdon, you can delight your senses on Tuesday and Saturday mornings (and Thursday mornings in the summer) thanks to the many local products on the stalls. An opportunity to taste delicious specialties such as Perigord truffles, ceps, foie gras, duck confit and duck breast, gigot of Causse, cabécous (goat cheese), chestnuts, walnut cake, honey, all accompanied by a good Cahors wine!
Photo credit: Aerial view of Gourdon by Michel Bernard