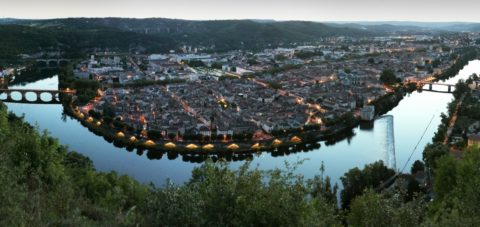 Cahors, its vineyards and the Valentré bridge
Beautifully lodged in one of the many meanders of the Lot river that forms a peninsula, the capital of the Lot department (and formerly capital of Quercy) is an absolute must-see whose origins date back to Gallo-Roman times. The amphitheatre and Roman baths remains to tell but a few are still there to prove the existence of Cahors at the time of ancient Rome. In the Middle Ages, Cahors became a rich and prosperous town; a stroll in the historic center will unveil the treasures of the period such as the Saint-Etienne Cathedral and the Pont Valentré. The latter is a showpiece as it has become the symbol of the town over the centuries. The first stone of the building was laid in 1308 and the construction took almost 70 years until its completion in 1378. The Pont Valentré was intended as a fortification to defend the city. With its 3 towers and arches preceded by acute starlings, it is a wonderful example of medieval defense architecture and is now classified as a Historic Monument and has also been listed as a UNESCO World Heritage Site since 1998 in the context of the Routes of Santiago de Compostela. Legend has it that the architect, unable to overcome his work, resorted to making a pact with the Devil in person in order to complete the bridge.
The magnificent doors on rue Nationale and rue du Château du Roi are reminiscent of the classical and Renaissance era of the city. After strolling through the picturesque streets and feasting your eyes upon the charm of the 25 secret gardens scattered throughout the city, do not miss an opportunity to take a break and enjoy a glass of Cahors wine on a terrace! The Cahors region has an exceptional vineyard thanks to its emblematic grape variety: Malbec. The Cahors vineyard is one of the oldest in Europe and owes its location to the Romans. Spread across some 45 towns, the vineyard now totals 4,200 hectares and its reputation goes far beyond the borders of the country. Cahors wines have the French AOC (Appellation d'Origine Contrôlée) label and are exclusively red wines (they go deliciously with local products such as truffles, ceps and game meat).
Photo credit: Cahors by Cahors Tourist Office